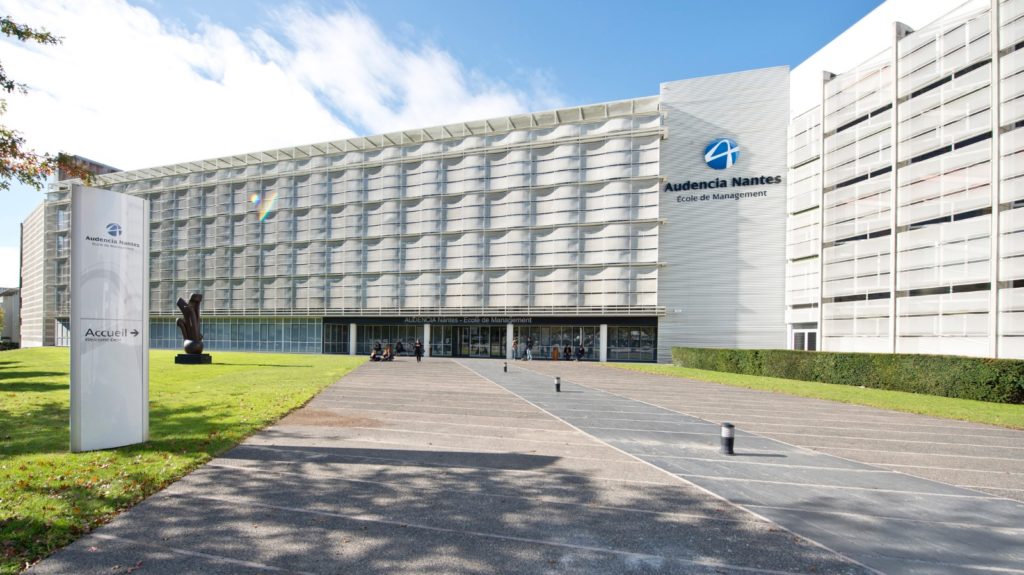 Founded in 1900, Audencia Business School (referred to as Audencia) is today among the best European business schools. Regularly ranked on a global level by the Financial Times, the school is accredited by EQUIS, AACSB and AMBA. Audencia therefore forms part of the select number of business schools who possess this triple-crown proof of quality. Students have the opportunity to earn their Master in Management Grande École.
Program Overview
http://master.audencia.com/programmes-english/master-management-grande-ecole/
Outline for IMBA Students
Year one to be completed at IMBA
Year two to be completed at Audencia after completing Year 1 of the IMBA program
To be granted the Audencia Business School Master in Management Grande École degree, National Chengchi University IMBA students must:
Hold a Bachelor degree and have successfully completed the admission described in the partnership agreement.
Have successfully completed the equivalent of a minimum of 60 ECTS credits during their 1st Master year at IMBA and complied with all the requirements of the IMBA program. Credits will be granted by the host institution for approved work successfully completed at the home institution.


Note: We strongly suggest that you take 22 credits during year 1 at IMBA.

Obtain a minimum TOEIC score of 850 (No IETLS or TOEFL score will be accepted). The exam will be organized at Audencia Business School without registration fees. Students can be exempted to take this exam if they already have TOEIC 850.
Have successfully completed a minimum of the equivalent of 60 ECTS credits in coursework of the Master Grande Ecole program and have complied with all the major and elective course requirements of the Master Grande Ecole degree (see below).
Graduation Requirements

ECTS credits

1st Year at IMBA

60 credits

8 pre-requisites:
Economics, Accounting, Statistics, Finance, Management Theory, Financial Markets, Corporate Law, Principles of Marketing

Pre-requisites can be waived if students finish 7-9 required courses of IMBA.

No Credits

2 majors:

Each semester, students will choose one major. These courses are compulsory and students have to take the entire set of a major which includes 7 to 8 courses.  These courses cannot be waived.  One set of a major is 28 ECTS, so students will take 56 ECTS for 2 majors during two semesters' studies.

56 ECTS

4 elective:

Students will choose 2 electives each semester, so there will be 4 electives in two semesters.

4 ECTS

TOTAL

120 ECTS
Note: 1 NCCU credit is the equivalent of 3 ECTS at Audencia.
Admission Requirements
In order to be admitted to the Dual Degree Program, IMBA students must:
Hold a Bachelor degree
Have completed the prerequisite courses of Audencia Grande Ecole program during their prior studies (otherwise they will have to complete these courses at Audencia to be able to graduate)
Have successfully completed the equivalent of a minimum of 60 ECTS credits during their 1st Master year at IMBA.
Provide evidence of proficiency of one of the following
a. French level C1 + English level B1
b. English level C1
Note: Audencia uses the levels of the Common European Framework (CEF) to evaluate your language skills.

Equal level of TOEFL recognized by Audencia: IBT 95, IELTS 7.0 or TOEIC 850.

Students are required to submit their application in Audencia's online system after nomination. Students have to complete it by their deadline.
Special Notes
Students must attend the Oral Competence Defense by end of the study to evaluate thoroughly their performance.

Students must provide a certificate or written evidence that they have health and civil responsibility insurance coverage (including protection in the event of accident or incident during the company internships); this insurance must be valid for the entire duration of the stay in the host country. Non EU Students are required to sign up for the mandatory National Security health insurance through Audencia Business School if their stay exceeds 90 days in France.
Degree Granted
Master in Management Grande École
Number of Seats
2 students
Additional Information
Students' Reports