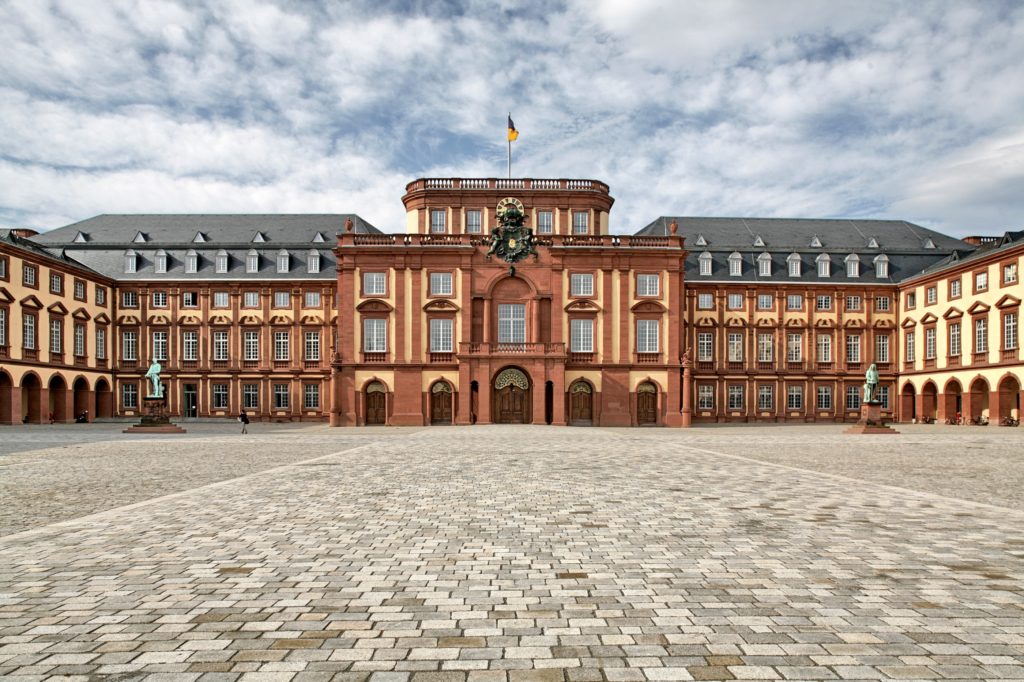 University of Mannheim Business School is considered to have the by far best and most prestigious business school in Germany and is consistently ranked #1 in national university rankings and among the top business schools worldwide for its business administration and economics programs. Financial Times has ranked Mannheim Master in Management (MMM) as No. 24 worldwide. (Financial Times Masters in Management 2019 Ranking).
Program Overview
https://www.bwl.uni-mannheim.de/en/programs/masters-programs/mannheim-master-in-management/

https://www.uni-mannheim.de/en/academics/coming-to-mannheim/exchange-students/courses/course-catalog-fall-2019/
Outline for IMBA Students
The intended length of study for the dual degree program shall be two years, respectively four semesters. Dual degree students will spend the first academic year at their home institution and the second year at the host institution.
In order to be awarded both degrees, dual degree students have to achieve a minimum of 120 ECTS credits in accordance with the curriculum as described in agreement. At least half of this amount, i.e. 60 ECTS credits, must be completed at each of the institutions.
Within the dual degree program, the IMBA and the MMM degree programs are managed separately. Therefore, the requirements of each degree have to be fulfilled according to the agreement.
A final thesis will be written at the host institution. At the end of the two years of studies, it will be checked whether the dual degree students have fulfilled all requirements to be awarded the degrees from both institutions.
MMM Degree Requirements

CREDITS

5 Core Courses:

CC 501 Decision Analysis (6 ECTS)
CC 502 Applied Econometrics or 
CC 503 Empirical Methods (6 ECTS)
CC 504 Corporate Social Responsibility (4 ECTS)
BE 510 Business Economics I (6 ECTS)
BE 511 Business Economics II (6 ECTS)

28 ECTS

Business Administration Courses:
Courses can be chosen freely from the portfolio of Business Administration courses within the MMM (according to the module catalog). The requirements for the master thesis must be covered with these courses.

min. 62 ECTS

Seminar
(level 700 course)

6 ECTS

Master's Thesis

24 ECTS

CREDITS IN TOTAL (min.)

120 ECTS
Note: 1 NCCU credit is the equivalent of 2.5 ECTS at MMM.
Useful Information
The MMM Module Catalog provides an overview of the MMM course portfolio, course descriptions, and thesis requirements. It can be found online at https://www.bwl.uni-mannheim.de/media/Fakultaeten/bwl/Dokumente/Studium/MMM/Modulkatalog_MMM_Englisch.pdf 
Admission Requirements
1. Students must have a solid academic record and sound knowledge of English (at least IELTS 6.5 or IBT 90). Students must be culturally, academically and personally motivated. The criteria above will be verified by application procedure at the home institution, including selection interviews by a committee.
2. Students should submit their application in Mannheim's online nomination portal after nomination. Mannheim Business School will contact students by e-mail with further instructions about completing their application. Students have to complete it by their deadline.
Degree Granted
Master of Science
Full program title is "MSc Mannheim Master in Management".
Number of Seats
1 to 2 students
Special Notes
Courses will be waived at the host institution according to course equivalencies as stated in the agreement. Course validation will be subject to the equivalence of MMM courses with IMBA courses outlined in the agreement appendix. Applicants are advised to refer to the Program Manager for details. Some required courses at MMM are not equivalent to any IMBA courses and such courses must be completed at MMM. Study of the students has to be adjusted to the constraints of both programs. Therefore applicants should carefully review the above mentioned appendix and consider how many credits and which IMBA courses they need to complete in their first year in order to be admitted to the Dual Degree Program to shorten their individual study period.
Together with courses selected at Mannheim, equivalent courses taken at IMBA must cover the requirements for writing a master's thesis at Mannheim. Due to the structure of the dual degree program, writing a master thesis may lead to an extension of the program of at least one semester.
As IMBA thesis (with oral) is non-credit but required for graduation, master's thesis written at Mannheim (with 24 ECTS) will be recognized as 0 credit at IMBA. In order to fulfill the IMBA graduate requirements (42 credits), students need to take an additional of 9.6 credits (24 ECTS) at IMBA or Mannheim.
Double degree students will be required to carry adequate health insurance during the whole time of studies, especially for the time spent at the host institution. They must provide proof of such to the host institution prior to enrollment. Non-EU citizens will be required to obtain health insurance according to EU standards for the time enrolled at Mannheim.
Please be aware that processing time for a student visa to Germany is up to 3 months.
Additional Information
Students' Reports
~University of Mannheim Online Experience Day~
Meet us at the Online Experience Day on March 19, 2020!
Log in comfortably from home and learn more about the study programs at our Business School and campus life at the University of Mannheim.
Register for free.