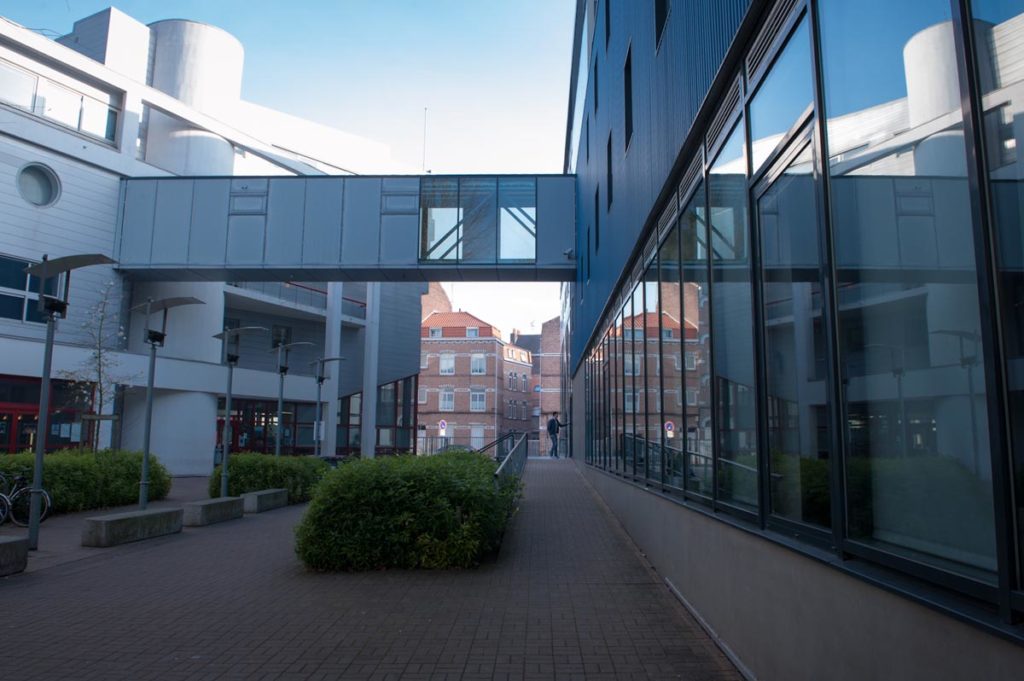 Founded in 1964, IÉSEG School of Management has received the prestigious accolade of becoming a Grande École (literally in French "a great school"), one of the most respected and academically rigorous types of higher education institutions in the world. Of the 63 business schools in France that have a Grande École program, IÉSEG is among the 12 that have received AACSB, EQUIS and AMBA accreditations. Less than 1% of Business Schools worldwide have obtained this honor. IÉSEG's Grande École program and Masters of Science programs are taught entirely in English. Financial Times has ranked IESEG's M.Sc. in Management No. 33 worldwide (Financial Times Masters in Management 2019 Ranking).
Program Overview
Course Information
IESEG Courses available for exchange students
Outline for IMBA students; Duration 2.5 years:
Semester 1 & 2: Study at IMBA
Semester 3: Study at IESEG
Semester 4: Supervised thesis at IESEG
Semester 5: Internship worldwide (arranged by either IESEG or IMBA)
Note: The structure of semester 4 and 5 can be exchanged, given the preferences of the student (e.g. first internship and then thesis or vice versa)
The semesters spent at IESEG should have the following structure according to the European credit system (ECTS):
Courses (see the below table)                                                28 Credits
Internship (6 months)                                                               30 Credits
Master Thesis (6 months)                                                        30 Credits
Obtain a minimum score of 880 on the TOEIC Test
French Language optional (40 Hours)                                   no Credits
| | | |
| --- | --- | --- |
| Course code | Course title | ECTS |
| HRMMA-CI18UE | Change management | 2 |
| IBEMA-CE47UE | Business cycles & Corporate Management | 2 |
| ITCMA-EE02UE | Managing Cultural Diversity | 2 |
| LANMA-CE17UE | Preparation for TOEIC* | 2 |
| LANMA-CE20UF | French as a foreign language (FLE) | option |
| OPSMA-CI02UE | Consulting Skills | 2 |
| PROMA-CE06UX | Professional Project | 2 |
| | Strategic Analysis or one elective if already done | 2 |
| | Research Methodology in Major | 2 |
| | 6 electives | 12 |
| | TOTAL | 28 |
* "Preparation for TOEIC" can be substituted by another elective course if students already have TOEIC score 880.
Note: 1 NCCU credit is the equivalent of 3 ECTS (IESEG).
Admission Requirements
Nominated IMBA students must meet the following requirements or documentation:
GPA above 3.3 out of a 4.5 scale
A minimum TOEFL score of 90 at the IBT or equivalent level with the TOEIC test (880)
CV
Letter of motivation (or study plan)
Submit your application in IESEG's system in the link: https://application.ieseg.fr/INInfo after nomination.
IESEG Academic Calendar
http://www.ieseg.fr/en/student-services/academic-calendar-2/
Number of Seats
3 students
Special Notes:
IMBA students have to be 3 semesters under IESEG "control" which may include courses, internship, and thesis.
The program is offered on both Lille and Paris campuses. Students can choose which campus they want to go.
Internship and thesis can be conducted anywhere; however, the internship reports need to be submitted at IESEG.
Students who have already done a six-month professional experience minimum may be exempt the internship, but the internship reports need to be submitted and validated by IESEG.
IESEG thesis requirements: the student has to find a supervisor at IESEG (like the other IESEG students). The thesis can be orally defended in France or Taipei. For the second option, it should be done at NCCU with video facilities (Skype or visio-conference).
Students should have a minimum of 880 on the TOEIC test to graduate (test will be taken at IESEG).
Degree Granted
Master of Science in Management
Additional Information
Students' Reports