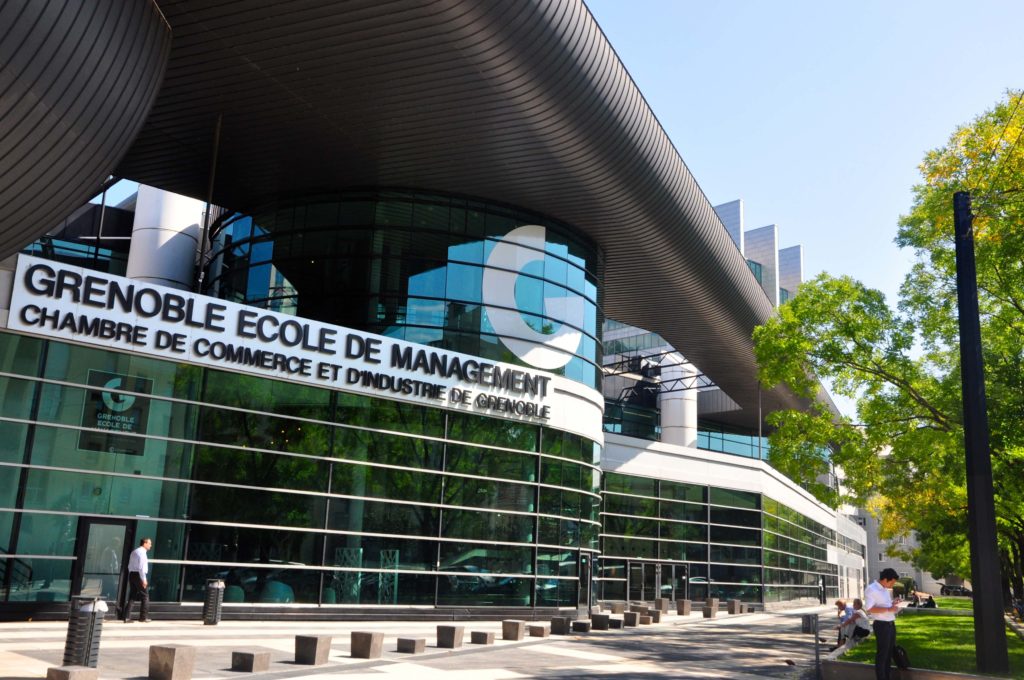 Founded in 1984 as Groupe ESC Grenoble and partnered with Harvard Business School since 2010, Grenoble Ecole de Management (GEM) has always been an international player and has ten sites abroad.  Financial Times has ranked GEM's full-time M.Sc. Program as No. 43 worldwide. (Financial Times Masters in Management 2018 Ranking)
Program Overview
Programme Grande Ecole 3ème année (French Track):
https://en.grenoble-em.com/sites/default/files/public/kcfinder/files/exchange/Programme_Grande_Ecole_Year_3_Master_2.pdf
Master in Management Year 3 (English Track):
https://en.grenoble-em.com/sites/default/files/public/kcfinder/files/exchange/Master_Management_Master_2.pdf
Outline for IMBA Students:
Participating students are required to fulfill the in-residence class requirements of both institutions to obtain the master's degree. Each institution will recognize core classes that are completed at the other. Students are required to stay at least one academic year at GEM. They have to take 60 out of 120 ECTS credits, usually within 2 terms (September to April). Course selection is under the responsibility of GEM, according to the prior academic progress of each individual student.
Admission Requirements
Nominated Students must meet the following requirements or documentation:
Have enrolled in the IMBA program and completed 60 ECTS credits at Master's level before starting the program at GEM
Proof of English proficiency

(IELTS 6.5 or IBT 90)

B2 level on the Common European Framework of References for Languages (CEFR/CECR) for the 2nd Modern Language (This includes Chinese or Mandarin, English not eligible).
Selection of IMBA students
1. After receiving IMBA's nomination, GEM will contact the student(s) directly to continue with their online enrollment. Selected students will be reviewed by GEM upon completing a formal application to the program within the application period deadline.
2. The recommended selected IMBA students will be interviewed by a representative from GEM at IMBA. In case interviews are not possible, two academic letters of recommendation are required.
Special Notes
Students who are enrolled on a "double degree" need to join GEM late August for a full academic year & need to participate in the intensive French seminar unless they can justify B2 or equivalent level in French. The seminar consists of 30 hours of intensive French classes, which will be followed by 70 more hours over the academic year. This is planned in order to secure the French exam which is part of the final exam.
IMBA students on the Master in Management Programme at GEM will have to do a six-month work placement (21 weeks minimum). It shall be carried out from May to November of the academic year and counts within the 60 ECTS credits. Students who have already done a six-month working experience minimum (equal or more than 21 weeks of professional experience in the field of Management) may be exempt but students will have to do a presentation & defend it with the GEM faculty. An internship (written report + defence) mark equal or superior to 10 out of 20.
IMBA students on the Master in Management Programme at GEM will have to do the "Grand mémoire" (the Masters dissertation). Students will be expected to complete and pass a research-based dissertation of between 15000 and 20000 words on a topic related to the Master in Management degree. This research work is to be carried out by a group of maximum 3 students over the length of the academic year & will be assessed by a common mark. It counts within the 60 ECTS credits. Students writing a Master thesis at the home institution may be exempt. This is the sole decision of GEM academic board.
A final examination which consists of 3 different exams:

a Toeic test

,

an oral comprehensive exam in English related to Technology Management

,

a 2nd Modern Language test (Native language and English not accepted) related to Cross cultural Management

.  Pass mark: 10 out of 20 as a whole but also for each exam.
A general average mark equal or superior to 10 out 20 for Master 2 year.
To obtain the degree, the general average of all points (a final examination + a general average mark + an internship (report + defence) mark) mentioned above needs to be equal or superior to 12 out of 20.
Number of Seats
3 students
Degree Granted
Master of Science in Management
Additional Information